Patient Testimonials
The scar down Kayli Arii's back, the one concealing two titanium rods fused and screwed to her spine, is 14 inches long.
Basically, the length of her back.
Less than two years ago, Arii's spine was curved somewhere between 50 and 60 degrees – the "S" in scoliosis, X-rays showed.
The medical condition, a sideways curvature of the spine, runs in her family. Her mother, Dayna, has scoliosis, and so does an aunt.
But no family member has had as severe a case as Arii.
"A rib on my left side was sticking out; my spine was turned," the 17-year-old said. "When we took pictures, I noticed, but I didn't pay attention to it. I just thought that was the way it was supposed to be."
Left untreated, scoliosis results in chronic back pain and a hunched posture. Surgery is a common treatment.
Curved at 12 degrees now, Arii's spine "isn't straight," she said, "but it's better than before."
Straight spine or curved, the third-year varsity basketball player at Sunny Hills High has always played without fear.
The teen's friends and family are amazed Arii – all 4-foot-11 of her – plays at all.
"Kayli's always been a hard worker," her mother said. "When she has it in her mind that she wants to do something, she makes sure her goals help her get there."
For as long as Arii can remember, she has felt at home on basketball courts.
At an early age, dribbling was synonymous with walking, her mother said. In the second grade, Arii joined a local Asian basketball league with friends. Diminutive for her age, Arii pinballed her way to the basket, absorbing contact without complaint or a second thought.
From recreational leagues to club teams, Arii played with heart, even as her body demanded help.
"When I was growing up," her mother said, "I remember the doctor mentioning to my parents, about me, that I had a slight curve (in my spine). I remember hearing that when I was young, and yet I didn't (understand) it until I was older and Kayli was going through the same thing."
In the eighth grade, during an annual physical, a doctor diagnosed Arii's condition as scoliosis.
To avoid corrective surgery, Arii was fit for a brace – made of rigid material her mother likened to what is used to make surfboards.
Told to wear it for six months, Arii "cried every night, every morning until she could get used to it," her mother said.
With no improvement, Arii was scheduled for surgery in June 2015. In the interim, she was told to "be more cautious" when playing basketball, she said.
As a freshman in 2014, Arii started for Sunny Hills' varsity team alongside her older sister, Kelli. She averaged north of 3 points a game but offered intangibles such as hustle and heart.
And never did she seek special treatment from coaches.
"She was a very determined and smart player," said Craig Weinreich, formerly Sunny Hills' longtime girls coach. "She had one of the highest basketball IQs on our team, and even though, physically, sometimes she couldn't keep up with everybody, she knew what she was doing on the court. She knew the right things to do.
"She was fun to watch."
Arii was on the operating table on June 10, 2015, for a nearly five-hour procedure.
Days after surgery, she said she questioned her luck. She'd just started making friends at Sunny Hills and had just earned regular minutes on the varsity basketball team, and now she faced a summer cooped up at home relearning how to walk.
Would she ever return to the court?
"If it's hard to walk," she thought, "how am I going to start playing basketball again?"
Arii's parents took two months off of work to help their daughter recover.
"She couldn't do a lot of things," her mother recalled. "She couldn't get into bed, so we had to prop her in. Eating, she had to make an adjustment. My husband put boxes on the kitchen table to elevate her food. Her sister had to help her. We had to take care of Kayli for quite a while."
Before long, Arii walked her way back to health.
Physical therapy sessions and impromptu strolls around the neighborhood with her mother and sister accelerated the healing process. But could she start playing basketball?
"Doctors were so surprised that she still wanted to play," her mother said. "They think that's why she got better faster; she wanted to play again."
Last winter, Arii was jogging back and forth during basketball practices, exercising independently while her team prepared for the 2015-16 season.
"After surgery and during recovery, I thought about what I was going to do to get better," Arii said. "I could barely walk, but my friends and family kept telling me everything was going to be OK. For them, I kept my mind on my goal and stayed dedicated to getting back."
Rusty and slightly out of shape, Arii returned to the court last December, eager – overeager, she admits now – to compensate for lost time.
"Kayli's always been more on the aggressive side," her mother said. "For her to change how she plays, I don't think it would come natural to her."
There still are things Arii can't do. Heavy doors give her trouble, as does carrying a heavy backpack. Sunny Hills loaned her textbooks to keep at home.
Playing basketball also hurts on occasion, but the pain subsides with time, she said.
Every six months, she checks in with her orthopedic surgeon.
Off the court, Arii maintains a 4.2 GPA. She said she wants to become an engineer, like her mother.
"She's still the same hardworking person with a goal that she was before," Dayna Arii said of her daughter. "Her goals are set in her mind. Kayli's always been really hardworking. She uses her time wisely. She's a smart player and a smart student."
Jae Byun, a Sunny Hills alumnus, inherited the girls program in the summer. Upon arrival, he said, he noticed the difference in his team's play with Kayli Arii running the show. Now she pushes the tempo and facilitates on offense. She's also shooting more than she used to, Byun said. Let it fly, he tells her.
Her fearlessness inspires, Byun said. Never mind her spine. She's still diving on the floor after loose balls and taking charges.
"Her resiliency, her perseverance," he said, "is so much bigger than her size.
"Whenever she gets hit, whenever she lands on the ground, her teammates are always there," Dayna Arii said. "She has so many supporters."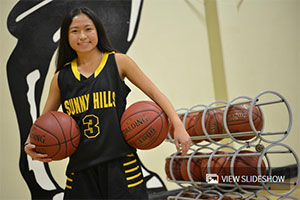 Regards,
Kayli Arii
In the summer of 2015, our 15 year old daughter, Reilly was diagnosed with dysplasia of the hip requiring a medical procedure which very few orthopedic surgeons have the expertise to perform. Our current health network did not have a qualified surgeon and they were able to recommend Dr. Francois Lalonde.
We met with Dr. Lalonde for consultation and examination which diagnosed Reilly with a right acetabular dysplasia, requiring a periacetabular Ganz pelvic osteotomy operation. Dr. Lalonde advised this would be a complex 4 hour medical procedure that involved cutting the pelvic bone all the way through, realigning the hip joint to its proper place, securing back the bones with four screws and donated bone. It will take about half a year to heal.
In September 2015, Reilly had the surgery and spent 7 days at CHOC. After the surgery, she spent 12 weeks at home, as she was not allowed to put any weight on her leg so that the bones could mend. She has now started physical therapy with the goal to get her back walking in a 4 to 8 weeks.
Dr. Lalonde is an outstanding orthopedic surgeon who possesses an expertise that makes him one of the best in his field. He made us feel comfortable and was always respectful, answered all of our questions and took the time to provide an explanation, no matter how busy he was. We trusted his diagnosis and recommendations. During the busiest of times at his office dealing with patients, we observed that he maintains a positive attitude and never makes patients feel hurried which is a reflection of his confidence, knowledge and years of experience.
Dr. Lalonde regularly checked up on Reilly while at the hospital and even came on a Saturday, which is a display of his concern for his patient. Dr. Lalonde and his office staff made sure we had the valuable home equipment we needed for Reilly's home care which was very important.
Regular office visits and xrays, post- surgery with Dr. Lalonde and Physician Assistant Liz Escobedo were important to monitor Reilly's progress and were always accomplished with respect and friendliness. In every profession, there are individuals who shine far above the rest with knowledge, experience, respectfulness and genuinely care about the people they interact with; and we had both in Dr. Lalonde and PA Liz Escobedo.
Although we wished Reilly never had to endure this procedure that requires a lengthy healing process, we feel both lucky and grateful we had Dr. Lalonde a genuine professional who cared for Reilly and hopefully for her future progress. With great appreciation, Reilly' s parents and family.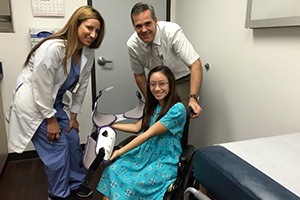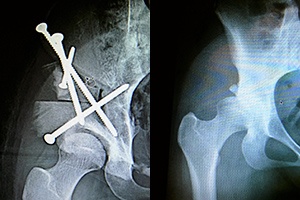 Regards,
Randy
Our Goalie Girl flying ! Thank you Dr Aminian for making her dreams of continuing in a sport come true. She is 5th in State and 9th in Nation ! She loves lacrosse.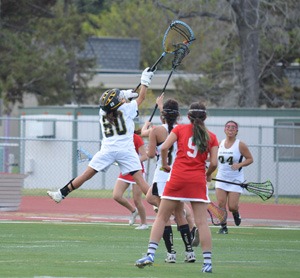 Thank you
Grandma Robin
Sofia Naumovski & Family
Dr. John Schlecter is an OUTSTANDING pediatric orthopedic surgeon. My teenage son had a Medial Patella Femoral Ligament done by Dr. Schlecter. Dr. Schlecter explained in a professional, unhurried, caring manner all the nuances of the surgery, the success rate of the procedure and post op rehab. My son and I NEVER walked away from his office in a state of confusion regarding ANYTHING germane to my son's surgery. As a retired First Responder firefighter of twenty five years, I know "exceptional" medical professionals when I see them. Dr. Schlecter is of that ilk.
I'd recommend him, Dr. Lalonde or Aminian in a heartbeat. I thank God for bringing my son to Dr. Schlecter.
God bless you all!
P.S. High MARKS also to the front office staff to the doctors assistants and P.T. specialists.
George M. Igawa Jr.
Just wanted to say that we drive out from Lake Elsinore to have Dr. Weinert and his lovely staff help us with all our pediatric orthopaedic needs & concerns. The service & care that we are given is the best !!
Dr. Weinert is always so professional and always answers all our questions.
All three of my children have seen him for different reasons....Thank you !!!
The Romero family
This place is great, I broke my ulna and radius playing football, and this outpatient office is amazing. Victoria Gyore is the nicest nurse practitioner ever. After my reduction and x-rays my wrist is healing great with my permanent cast. This place is the place to go!
Regards,
Deane
Our daughter was born with hip dysplasia. We were sad to know that she would need to be put in a pavlik harness for her first few months. However, the five months of being in the harness went by as fast as she grew out of her newborn clothes and diapers. Today is her first day out of the harness.
For all the hesitant parents out there - stay the course. The baby doesn't even notice they are in a harness; they think it's like another outfit. Not to mention, Dr. LaLonde and staff made the process easy. They were helpful, informative, encouraging, friendly and made sure that we were comfortable at all times.
Thank you again to the ortho team. You were all awesome!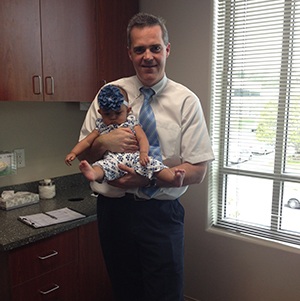 Regards,
Abagail
Dr. Aminian, I could never thank you enough for taking care of my daughter. Your professionalism is beyond words. The comfort you gave Alexx by the way you spoke to her and explained things to her in a way that she understood and made her feel at ease reassured me we were in the right place with the right doctor.
At 14 years old and her dreams set on all star cheer, having scoliosis was the most devastating thing a young girl wants to hear. As her mom and hearing about the procedure, I couldn't comprehend how she would ever be able to bend or twist. I wasn't prepared or did I have the heart to tell her that she probably wasn't going to cheer again. But the thought of never tumbling and being able to continue her dreams and goals was something she just wasn't going to let happen. You are the reason she gets to continue these dreams. I thank you with all of my heart! This was 5 months after her back surgery. I cried my eyes out this day. Your an angel! Thank you!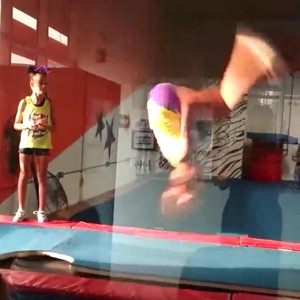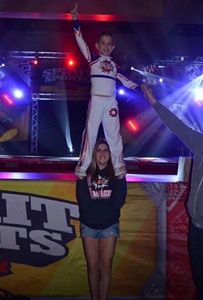 Regards,
Chrissy
Click here to read more reviews
Write a review
If you're interested in submitting a testimonial for Pediatric Orthopaedic Specialists of Orange County, Please use the form below to do so.
Thanks!
Fields marked ( * ) are required