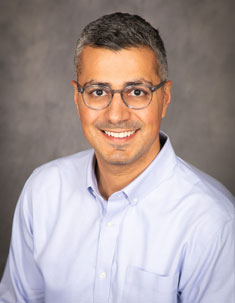 Dr. Amirhossein Misaghi
Pediatric Orthopaedics
Dr. Amir Misaghi is an orthopaedic surgeon with specialties in pediatric orthopaedics and musculoskeletal oncology. He treats many pediatric orthopaedic conditions including fractures, limb/foot deformity, hip dysplasia, limb length discrepancy, and rotational abnormalities. His specialty focus in pediatric orthopaedic oncology includes the treatment of both benign and malignant bone and soft tissue tumors such as unicameral bone cysts, aneurysmal bone cysts, osteochondromas, Ewing sarcoma, osteosarcoma, and more.
Dr. Misaghi completed his medical degree and residency training in Orthopaedic Surgery at the University of California, San Diego, where he also completed a research fellowship at Rady Children's Hospital focusing on scoliosis and pediatric orthopaedic traumas. Subsequently, he completed a fellowship in pediatric orthopaedics at the Children's Hospital of Philadelphia, where he gained experience performing complex and unique procedures such as limb lengthening, periacetabular hip osteotomies, and rotationplasty. Thereafter, Dr. Misaghi completed another fellowship in musculoskeletal oncology at Mayo Clinic in Rochester, Minnesota, where he was involved in many pediatric limb salvage cases utilizing custom 3D-printed guides for precise tumor resection, and performed reconstructions using both biologic and synthetic materials.
Having completed both a pediatric orthopaedic and an orthopaedic oncology fellowship at two of the premier hospitals in the nation, Dr. Misaghi is exceptionally suited to treat many complex pediatric orthopaedic conditions. He has written book chapters and many peer-reviewed articles on pediatric trauma and the treatment of pediatric bone tumors, and has presented his research at national and international conferences. He also possesses a strong interest in international medicine, and volunteered recently with Orthopaedics Overseas to travel to Nicaragua and collaborate with local residents and surgeons.
Dr. Misaghi was a long-time SoCal resident and is thrilled to be back in Orange County. He enjoys spending time with his wife and two children playing backyard soccer, barbecuing, and traveling.