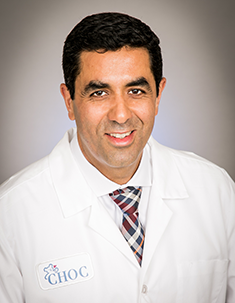 Afshin Aminian, MD
Pediatric Orthopaedic Surgery
Dr. Aminian is a Board Certified Orthopaedic Surgeon, specializing in Pediatric Orthopaedics and Scoliosis.
Dr. Aminian obtained his International Baccalaureate at the International School of Geneva in Geneva, Switzerland. He then attended Northwestern University in Evanston, Illinois, where he completed his Bachelor's in Science and Biomedical Engineering. He obtained his medical degree from Washington University School of Medicine in St. Louis, Missouri. He then returned to Chicago to complete his orthopaedic training at Northwestern University, where he served as a Chief Resident at Chicago Children's Memorial Hospital followed by completion of one year fellowship training in Pediatric Orthopaedics and Scoliosis at Children's Hospital in San Diego.
Dr. Aminian is the director of the Orthopaedic Institute at CHOC Children's in Orange, California and the current chief of the Department of Orthopaedics at CHOC Children's and program director of spinal surgery. He is an assistant clinical professor of orthopaedic surgery at the University of California, Irvine and involved in resident training and education in pediatric orthopaedics and scoliosis at CHOC Children's.
Dr. Aminian's active area of research is in adolescent idiopathic scoliosis and early onset scoliosis. He is involved in the research and development of growth friendly implants to allow correction of the deformity and spinal growth simultaneously.
Dr. Aminian is involved in international orthopaedics as well. He has done multiple mission trips in Africa and South America helping children with severe spinal and other deformities.
Dr. Aminian lives in Orange County with his wife and three children, aged 14, 9 and 3. His treatment philosophy is to ensure that all children, no matter their musculoskeletal problems, are able to achieve the full potential in their adult life and be able to live a life without limits.