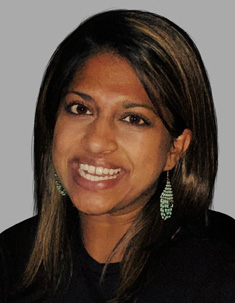 Aditi Majumdar, MD
Pediatric and Adolescent Sports Medicine
Dr. Majumdar is an orthopaedic surgeon who specializes in pediatric and adolescent sports medicine and arthroscopic surgery.
She provides care for a broad range of orthopaedic conditions, including musculoskeletal trauma, fractures, and growth plate injuries, with a specialized focus in sports injuries and conditions in the young athlete of the knee, shoulder, hip, ankle, and elbow.
Dr. Majumdar received her Bachelor of Science and Master of Science degrees in Exercise Science at the University of New Mexico, where she competed as a NCAA Division I pole vaulter for the UNM Track and Field team.
She earned her medical degree and completed her Orthopaedic Surgery Residency at the University of New Mexico School of Medicine. She proceeded to complete a Sports Medicine fellowship at Boston Children's Hospital / Harvard Medical School, followed by a post-fellowship preceptorship in pediatric trauma.
Over the years, Dr. Majumdar has served as a team physician for multiple high schools, colleges, and sporting events, including the NCAA Division I Indoor Track and Field Championships and USATF Indoor National Championships. She has co-authored several peer-reviewed articles and book chapters, her research interests including biomechanics, return to sports, psychological aspects of injury, ACL injuries, and treatment of skeletally immature athletes.
As a former multi-sport athlete growing up, Dr. Majumdar is passionate about the care and prevention of musculoskeletal injuries in the pediatric, adolescent, and young adult athlete, inspired by her personal journey through numerous sports injuries and surgery. She is dedicated to the complex challenges of the developing and aspiring athlete and hopes to deliver an empathetic and exceptional perspective to patients and families.
Outside work, Dr. Majumdar enjoys staying active in fitness and sports, traveling, and baking.